Homemade Vegan Sushi Rolls are a healthy and economical way to enjoy sushi, using vegetables instead of seafood. These amazing recipes produce the an incredible taste, and at a fraction of the cost of seafood sushi. Give it a go, we dare you!
Basic Sushi Recipe
Nori sheets (made from dried seaweed)
2 cups white rice (medium grain)
1 cucumber, cut into strips
1 red bell pepper, cut into strips
1 avocado, cut into strips
Thai Sweet Chile Sauce for dipping
Toasted sesame seeds, to garnish

Method
Thoroughly rinse rice until water runs clear

Cook rice according to packet instructions

Let rice cool completely, and transfer to a non-metallic bowl

Mix vinegar, sugar and salt until dissolved and pour into rice

Gently mix rice to incorporate seasoning

Prepare veggies by cutting them into strips

With rough side of the nori sheet facing up, spread the rice to a thickness of about 1/2 an inch. Leave the top 1" off the Nori sheet bare

Layer veggies on the bottom of the Nori sheet. Then, with a mat or towel, carefully roll up the sheet so all the veggies are rolled up firmly inside

S

eason with sesame seeds, if you desire

Use soy sauce or sweet chilli for dipping
Makes approximately 24 rolls
Avocado & Mango Brown Rice Sushi
You will need:
for the rice:
1 cup short grain brown rice, rinsed well

2 cups water

2 tablespoons rice vinegar

1 tablespoon sugar

1 teaspoon sea salt
for the rolls:
1 cucumber, sliced into long strips

1 ripe mango, sliced into vertical strips

1 avocado, sliced

⅓ cup micro greens, optional

2 tablespoons sesame seeds, optional

4 nori sheets
serve with:
Instructions
Combine the rice and water in a rice cooker and cook on the brown rice setting. If you don't have a rice cooker, combine the rice, water and 1 teaspoon of olive oil and bring to a boil. Cover, reduce heat, and simmer for 45 minutes. Remove the rice from heat and let sit, covered, for 10 more minutes. Fluff with a fork.

Meanwhile, in a small bowl, combine the rice vinegar, sugar and salt. Heat it in the microwave for a few seconds to allow the sugar to dissolve.

Prep the filling ingredients for the rolls and set aside.

Transfer the rice to a large bowl and pour in the vinegar mixture. Use a spatula to gently fold in the rice until the mixture is fully incorporated. The rice will start to look glossy. (Traditionally, you fan it to cool it while doing this)

Place a small bowl of water and a kitchen towel near your work area as your hands will get sticky. Place one nori sheet, glossy side down, onto a bamboo mat and press a handful of rice onto the lower two-thirds of the sheet. At the bottom of the rice place your toppings (see picture). Don't overfill or it will be more difficult to roll. Use the bamboo mat to tuck and roll the nori. Once rolled, use the bamboo mat to gently press and shape the roll. Place the roll to the side, cut side down. Repeat with remaining rolls.

Use a sharp chef's knife to cut the sushi. Wipe the knife clean with a damp towel between cuts.

Serve immediately with tamari or ponzu sauce and coconut peanut sauce, if using.
This recipe is from a lovely blog called Love and Lemons: https://www.loveandlemons.com/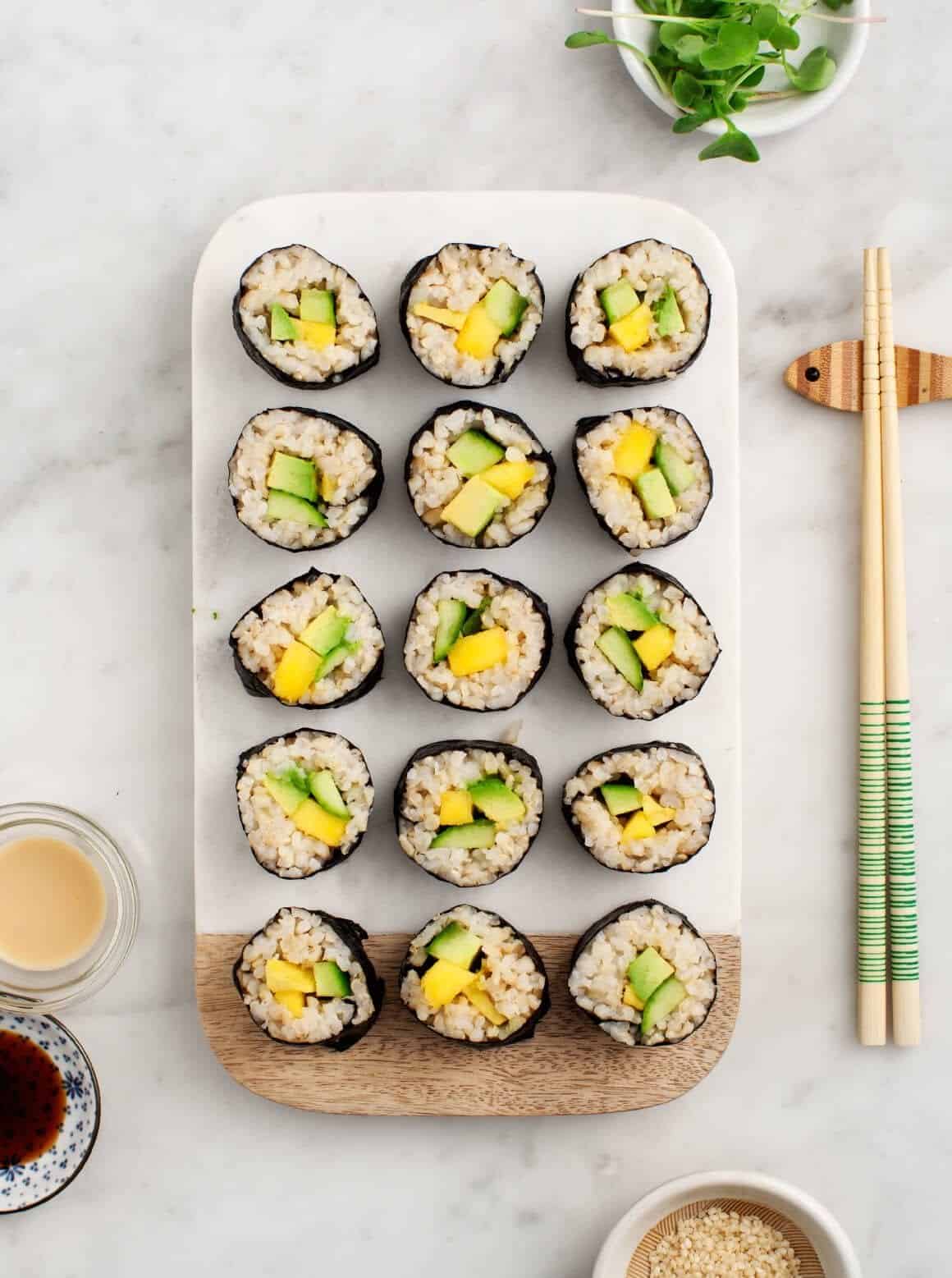 Sincerely, Madia & Matilda